Business Directory
This is where you will go to advertise your business on this site!
| | |
| --- | --- |
| | In order to add your business to the directory, you will want to login to your account using your login and password. Click on the icon that is circled in this image (Business Directory). |
| | |
| --- | --- |
| | If you do not have a business listed in this directory yet you will see the options to the right. Choose: Add a new business. This form will allow you to submit your business to our directory. |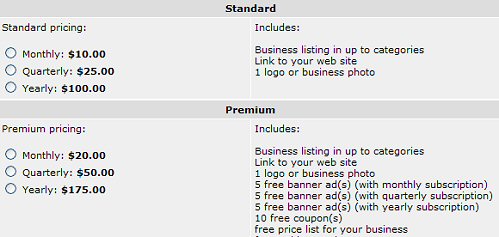 First you will select which of the packages you wish to use and then use the radio buttons to select how often you wish to renew your ad. Depending upon the administrators preferences in billing all three options (monthly, quarterly, yearly) may not be available for you to choose from.
After you have selected your package and billing options, scroll down and click the Continue button.
Depending upon the package you chose you can now complete the form offered with your ad details.

Business Details:
This section contains basic information about your business, such as name, address and a description. You must enter a contact name (ex: John Smith or Super Pet Shop). There is also a section for a website URL. If your business has a website, make certain to include the www. If you do not have a website simply leave it blank.

Categorization:
Here you will select the appropriate category(ies) for your business. Please be certain it is relevant to your business, or your listing may be deleted.

Logo:
If you would like a logo image (or any image of a product, etc.) listed with your business you can upload it here. Click on Browse to find the image on your computer.

Package Option:
This section shows you which options are available when listing your business. It describes the different features that are included in the package.

Additional Options:
This is any extra items you may want to add to your listing to increase its visibility. Some options may require an additional fee.

Pricelists: You will need to check this box if you wish to add pricelists to your listing.

Payment Options:
Choose how you would like to pay for the business listing. Your listing will not be visible until payment has been received. You business may also be held for review.

Once finished simply click on
Invoice Description:
This page is an itemized list of each option you choose and the cost for each along with the total due. If you chose to mail in your payment, you will find the mailing address on this page, if mail in payments are accepted. Please make sure to include your name, username, and business name. When you are finished, click on Return to take you back to your User Control Panel.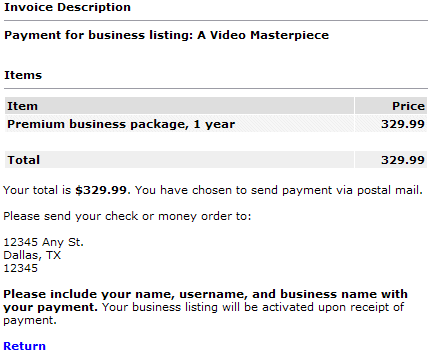 Close this browser window to return to the Guide. Or click to move on to the next section: Price List